Why not try a tea infused with a bit of CBD in it. We could all do with a pick up on a wet and dark day.
According to The Brothers Apothecary CBD tea is a great and effective way to boost your mood and manage your stress even if you have no health problems. And, even though there are many ways to take CBD, ingesting it in tea is a natural and healthy way to enjoy the benefits of it. They say it is full of antioxidants and vitamins to support a healthy body while giving you the right nutrients.
The Brothers Apothecary point out *The Apothecary LLC are not doctors and we do not provide medical advice. None of the information on this site, including information in any press release or blog post, constitutes legal or medical advice by us.
CBD Tea UK explain a bit more about CBD tea into two types: hemp tea and water-soluble tea. Some companies also offer sparkling CBD tea, but that's more of a sweetened beverage than a proper tea. Hemp tea is the closest equivalent to the regular (black and green) and herbal tea millions of people drink every day. It's made by steeping hemp leaves or other parts of the plant in hot water. Hemp tea has an earthy, bitter flavour that's somewhat reminiscent of an unflavored full-spectrum CBD oil.
Water-soluble or more accurately "water-dispersible" CBD tea contains CBD powder that's been processed with nanotechnology to make it easier to mix in water. It can contain either pure CBD (isolate) or whole-plant hemp extract (full-spectrum or broad-spectrum CBD). Most water-soluble CBD teas also contain regular or herbal tea to give the tea added flavour and benefits.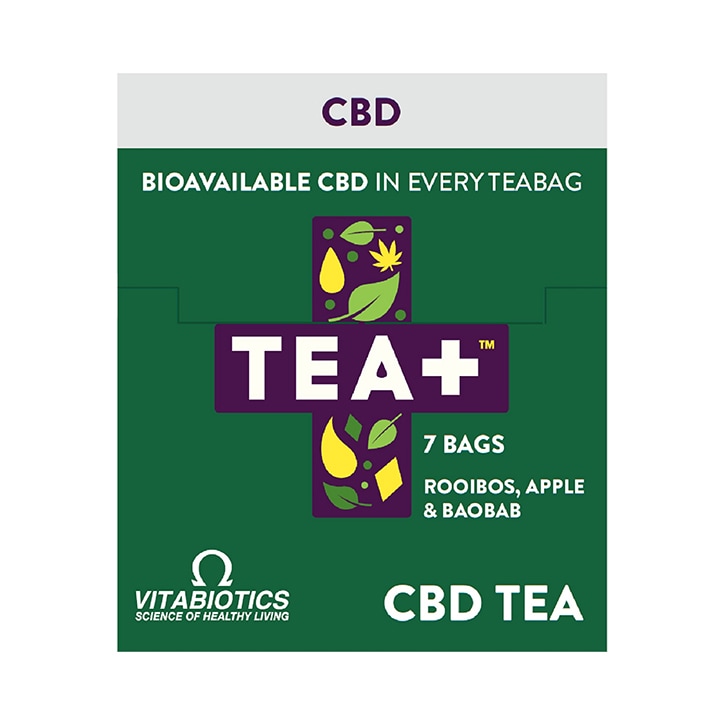 This CBD Tea is available from Holland and Barrett and is £5.24
3mg of 100% bioavailable CBD per tea bag
Organic blend of tea and CBD. Naturally caffeine free.
Naturally apple & baobab flavoured.
Part of a range of vitamin, mineral and CBD infused teas from TEA+. TEA+ CBD delivers 3mg of 100% bioavailable CBD per tea bag. Delivered in an organic caffeine free blend of rooibos, apple & baobab, TEA+ CBD offers a new, refreshing way to consume CBD.
Body & Mind Botanicals have a couple of CBD to choose from. The most efficient & natural way to take CBD to contribute to relieving stress, anxiety, pain and improving sleep and mood. With added Peppermint or natural for a new great flavour and the benefits peppermint provide.
BioBloom Hemp Tea from 50g of loose hemp flower tea high in CBDa. Produced from organic hemp this product is additive free, rich in flavonoids, terpenes and cannabinoids. Available in a paper bag or in a glass jar for improved storage at £18.90 from Fortheglass.
Buddha Teas UK have an Organic CBD Turmeric & Ginger Infusion which sounds delicious. Used traditionally for thousands of years, earthy turmeric and spicy ginger combine perfectly. Add 5 mg of water-soluble CBD, and the results are a stunning cup of ancient, yet modern delight. Finally, our CBD Turmeric & Ginger Infusion has been tested to reveal zero percent THC Water-Soluble CBD, 18 Bleach Free Tea Bags / Box at £16.99 Frequently paired for consumption, the combination of turmeric and ginger is an obvious winner when seeking a warming, stimulating cuppa. Considered close relatives as far as roots go, in this instance together really is better, which is then topped off with 5 mg of our water-soluble CBD. The pungent, mildly bitter taste of turmeric, when combined with slightly pungent, delightfully sweet ginger, makes an obviously perfect combo.